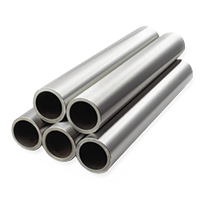 At the time of undergoing the process of constructions, it is essential to have the right materials. When a project is involving any kind of piping, one has to make a decision in choosing the best seamless steel pipes. Also, it is true that the decision as seems to be straightforward is actually not.  For instance, there are several regulations regarding seamless steel pipes usage is available. It is based upon the materials traveling through the pipes and also pressures those materials will be traveling under. It is essential for one to know about the seamless pipes before making any decision.
A seamless steel pipe is manufactured by utilizing the long steel cylinder. At first, the engineer heats the cylinder and then they insert the equipment named mandrel through the cylinder center. Then the cylinder is rolled and stretched till reaches to the desired size and wall thickness.
Seamless pipes advantages-
We know that welded pipes are failure vulnerable to the weld locations even through a seam isn't visible. The improvement of the welding technology, welded pipe handles about 20% less than a seamless one. There are many benefits associated with the seamless pipes doesn't need weld integrity testing but in some cases, it needs a heat treatment. That is due to seamless pipes gets hardened during the process of manufacturing.
It is possible to use seamless pipes as an alternative of welded one as due to tough regulations seamless pipes can take place easily in the application that welded pipes cannot. Most important seamless pipes are greatly resistant to corrosion. It is having very little impurities and defects that are related to the malleability.  Though seamless pipes are costly but it is sturdier and versatile in nature that can reshape the engineering future.
What superior features are found in seamless pipes?
High strength corrosion resistance
Durable
Sturdiness
High malleability
Superior strength
Strength under loads
increased pressure rating
Uniformity in shape
What technology is used for fabricating seamless steel pipes?
Seamless steel pipes are fabricated through solid steel billet that is heated and pulled/pushed over a form until it is shaped into a hollow tube.  Billets are procured from abroad and indigenous suppliers. Usually, seamless pipes are produced by extruding the alloy to the needed length. In seamless pipes, no welding/joints is there. These pipes are finished to the dimensional and wall thickness specifications in the sizes that are ranging from 1/8" to 26" OD. It is applicable for the greater pressure applications that include oil & gas transportation, industries & refineries, automobiles, etc. The technology used for the creation of seamless pipes is "CPE Technology" to 7" OD and "Plug Mill" technology is used for the greater diameter pipes (7" -14").
Where to buy those pipes?
Jaiman is fully engaged in manufacturing and supplying the high quality of Monel K500 seamless steel pipes. They are offering the ranges of pipes and all ranges are highly appreciated for quality, durability and smooth finishes. The industry catering to the needs of buyers is supplying the same at different types, standards, dimensions, wall thickness, sizes, ends, and schedules, etc and at reasonably priced costs.