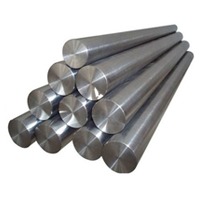 SMO 254 bars are also called as UNS S31254 and are mainly developed for the use at the atmosphere like in seawater and aggressive chloride bearing. It is said to be high stainless steel and austenitic and is having 19.5%-20.5% of chromium, 6-6.5% of molybdenum and .18%-.22% of nitrogen. All these alloy element compositions allow 31254 mixing up the impact toughness corrosion resistance with pitting and crevice.
SMO 254 bars are also referred to 6% of moly grade due to the content of molybdenum and it is easily able to overcome high temperature while maintaining the strength in volatile condition. This grade surpassed the initial intent and overlap in several industries, thus proving a lot useful. This alloy due to a high level of molybdenum and other alloying elements are the thus used in applications like flue gas desulfurization and chemical atmosphere. Also, it is found to be used at heat exchangers, pumps, piping, and valves.
Jaiman Metal Alloys is a reliable manufacturer, supplier, and exporter of the high quality of SMO 254 bars. This company is having good years of working experience in the same zone. They have been exporting this grade bars all across the world. They supply SMO 254 bars that are high end austenitic stainless steel so that it can be used into the seawater atmosphere and chloride containing surrounding.  Alloy SMO 254 is stronger as compared to common austenitic grade with high strength. Owing to the good properties like corrosion resistance, welding and ducting these are used in many industrial applications.
Corrosion resistance of SMO 254 Bars
The good resistance to crevice corrosion and pitting is possible due to molybdenum, nitrogen and chromium content. It is having low carbon content that means the risk of carbide precipitation when heated is little. It is offering good resistance at water containing chloride, it becomes ideal to use under a sweater and can be used for a longer time without facing crevice corrosion.
Weldability
It is having good weldability and can be done without undergoing pre-heating. If done properly then there is no need for extra heat treatment. It is having low thermal conductivity and greater thermal expansions so it must reduce welding joint distortion. However, welding without filler metal is resulting in bad strength properties.
Machinability
The high work hardening rate when combined with sulfur makes it a little bit harder to the machine. The sharp tools, over-powered machining tools, slow speeds, etc offer a better outcome.
Standards of SMO 254 Bars
ASTM/ASME – UNS S31254, DIN 2.4660 and EURONORM- FeMi35Cr20Cu4Mo2
Uses of SMO 254 Bars
Because of the high level of mo0lybdenum alloy and nickel alloy, SMO 254 is used in the atmosphere having high chloride. Few of the applications that are demanding for it is listed below-
Food processing industry
Construction industry
Fabrication industry
Defense industry
Oil & gas industry
Paper & pulp industry
Chemical industry
General purpose application
Water supply system
Plumbing
heating
PowerPoint
So if you are seeking to buy it definitely you can get it from Jaiman industry as they are good at offering custom-built bars at affordable rates. Their service is faster and excellent.