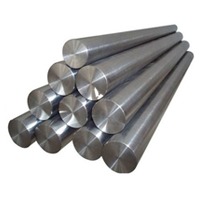 Jaiman Metalalloys is renowned Manufacturer, Supplier & Exporter of Inconel 600 Bars. They are also being used as roller hearts and tubes. They are the bar that works well in both hot as well as annealed conditions. The ranges of these bars are also very reasonable. They are available in standard sizes and shapes. They are being made from the high quality of standard quality raw material. They are also being designed according to the standard of national and international. They are nickel chromium iron that provides you with the excellent oxidation resistance. They have excellent resistance in soaring temperature.  They are highly resisted from corrosion and cracking.  They have high mechanical properties they process high workability and good strength.
The industries dealing with Inconel 600 Rods provides you with required test certificates. They are being made with the high quality standard. One can easily order small quantities they can help you in getting the small and large quantities all around the world. inconel bars are known by different grades and desginations which are the standard specifications for them. Apart from that, they should also qualify the tests to ensure their quality.
Inconel 600 Bars offer you with the good oxidation and corrosion that resist in very high temperature. These bars are said to be non magnetic and provides you with the great mechanical properties. They have high strength properties, and are heat treatable.
Inconel 600 Bars can be easily being hard-boiled and strengthened through cold work. They are magnetic and resistant in a wide range of corrosive materials.